Fire breaks out at Lahore Mall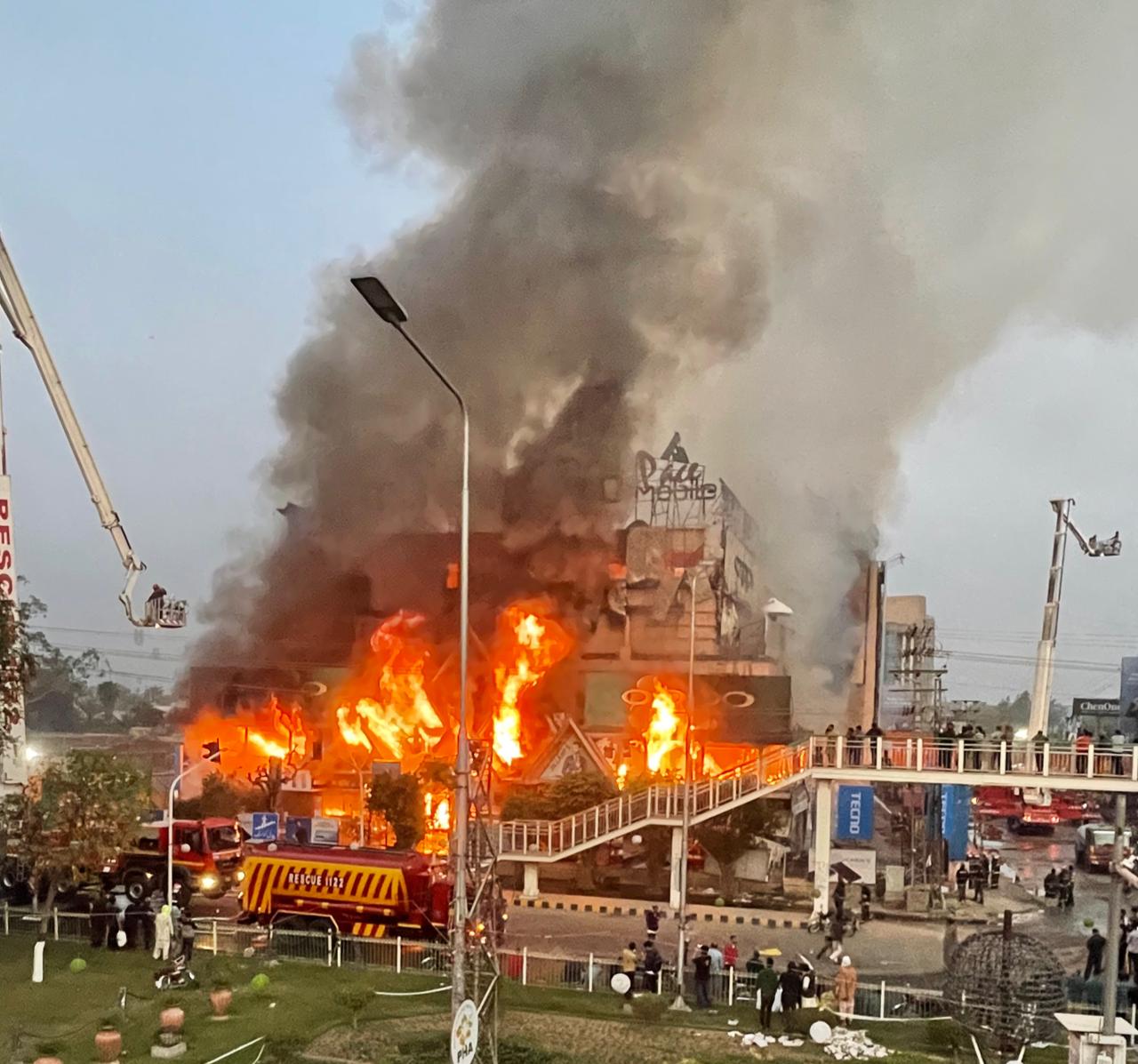 LAHORE: An overnight fire at a posh shopping center in Lahore's central district was brought under control six hours after it started and the process of cooling was underway, police and the Civil Administration said on Monday morning.
نجی شاپنگ مال پیس میں لگنے والی آگ پر قابو پا لیا گیا ہے. ریسکیو 1122، فائر بریگیڈ کے عملہ نے عمدہ کام کیا. خطر ناک لگی ہوئی آگ پر مہارت سے قابو پایا. میں نے مسلسل آگ بجھانے کے عمل کی خود نگرانی کی. pic.twitter.com/qxEdmgLMV2

— Deputy Commissioner Lahore (@DCLahore) March 14, 2022
City firefighters dispatched 25 firefighters and at least 60 rescue workers to the Pace shopping center in the Gulberg district shortly after 2 a.m., as online footage showed flames peeling from the top of the block and a plume of dark smoke drifting in the sky. .
A spokesperson for the Rescue 1122 service said special fire engines with snorkels and an aerial platform were also at the scene while teams were also called in from nearby districts.
No casualties were reported in the incident.
The fire caused extensive property damage, devastating hundreds of stores selling clothing, leather goods and cosmetics, many of which were highly flammable.
The cause is not known at this stage.
"Investigations are underway to determine the cause of the fire," the ministry statement said.
Lahore's Pace department store on fire last night pic.twitter.com/xoHoEeJQwN

— omar r quraishi (@omar_quraishi) March 14, 2022
Lahore Deputy Commissioner Umer Sher Chatha said it was a class A fire – a fire involving solid fuels such as wood, coal, paper, plastic, straw, fabric, rubber or other solid material.
"The building will be closed until it is safe," a member of the fire service told reporters at the scene of the fire. "We need to see the impact on the structure and the police will have to come in to investigate."
The fire broke out in a neighborhood popular with shoppers, just weeks before the start of the holy month of Ramadan.
Meanwhile, traders have blasted Pace's management, claiming the building was deliberately lit.
Police said the security manager and a staff member were arrested for obstructing rescue operations.
Fires are frequently reported in the provincial capital of Punjab, some caused by electrical short circuits, others by unsafe heating methods.
In October 2020, a massive fire at the Hafeez centerLahore's main multi-storey market housing mobile phone, laptop and computer businesses, destroyed more than 400 shops, godowns and repair facilities, inflicting heavy losses on traders.
This is the fifth major fire reported in the Gulberg district in the past four years.